Happy Shrove Tuesday!
AKA Mardi Gras

AKA Fat Tuesday

AKA eat all of the sweet/fattening stuff in your house to clear it out for Lent day.
As a kid, my dad would always bring home a giant king cake to enjoy together as a family. It was a really fun tradition. While I knew Mardi Gras was a day to party and the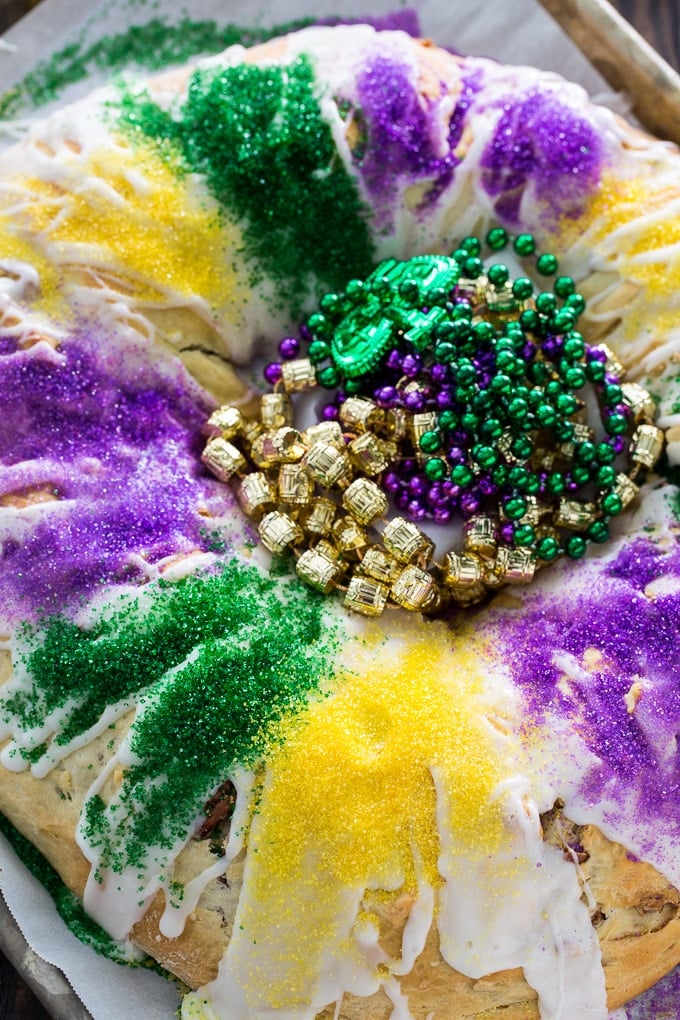 King cake had a little plastic baby Jesus or chocolate gold coin hidden inside, I never really knew much of the meaning behind the celebration.
Shrove Tuesday (Mardi Gras) is a traditional Church holiday celebrated around the world by Christians. We use up the delicacies in our houses, like sugar and flour and butter (which are also essential ingredients to make lots of PANCAKES!), and we clear space in our homes to prepare for the Season of Lent.
Lent begins tomorrow.
This 40-day season (plus 6 Sundays) is a holy time to focus on God's message of love and Christ's ultimate sacrifice for the spread of love to all.
What Lent IS…
a 6-week period from Ash Wednesday to Easter (40 fasting days + 6 holy Sundays)
a time to focus our attention on God.

In order to focus on God, it is helpful to remove something that is distracting us or gobbling up our time. (No, friends, we can't just skip school or work.)
Some cut back on social media, screen time, fried foods, etc. Each person can take a minute to figure out what is keeping you from deeper connections with God. Oo, this is a deep thought!
For me this year, I'm going to spend less time on my (very comfy) couch and spend more time reading the Bible and praying through yoga.
What Lent is NOT:
only for Catholics. Lent is a symbol of the time the Israelites were wandering in the desert for 40 years AND Jesus fasting and being tempted by Satan for 40 days (and Noah's crew enduring 40 days on the ark). Lent is for ALL people (Catholics, too!), an invitation to draw nearer to Christ.
that fuzz that the clothes dryer leaves in your pants and shirt pockets. That's lint, hee.
a punishment for being lazy, late, or sinful. Just like Advent, Lent is a season of waiting. It's a lot like life–what are you waiting for? What are you hoping for? Lent is 40 times LONGER than Easter Sunday, so clearly the Bible and the Church want us to pay attention to it.
One thing I really love about Church seasons (like Advent, Lent, etc.) is I learn something new every year, without fail!
This year, I learned that I can look at the Lenten season just like tithing, the ancient biblical idea of giving 1/10th of all that I have to God. We use tithing as a way for financial giving in the church, and there are other creative ways to tithe in your life, too.
So the Lenten Season is 40 days…almost 1/10th of our year (365 days)!!
So when we go through the season of Lent with Jesus, we are devoting a mere 1/10th of our year to focus on God's message in our lives.
How close do you want to be to God? 
After these 40 days (+ Sundays), we each have the golden opportunity to be closer to God, increase our trust in God and draw nearer to the Christ who sacrificed all for each of us. In addition, we can think of one or two things to set aside (time takers or distractions) to have more time with God.
This is really empowering, exciting stuff!
This Sunday, there will be a Prayer Station set up in the main entrance (Galleria) of church. You'll have an opportunity to write on a card 1)how close you'd like to be to God and 2)what distraction you're willing to set aside for the Lenten season in order to focus more on time with God.
Happy week and let's move through Lent as a journey together!
~Laurel