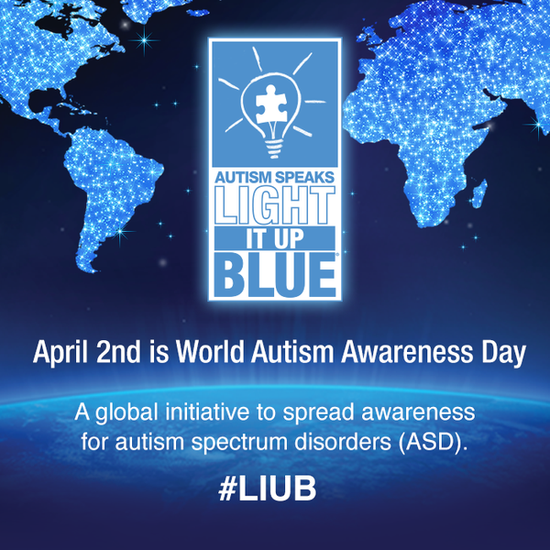 Today is World Autism Awareness Day, AND it's Royals baseball season. So many reasons to Light it up Blue!
Is there a person living with autism in your life?
Some of my favorite people on this planet have shown me the width and depth of life…and they also were on the autism spectrum.
May we celebrate all people today and advocate for great healthcare and resources for ALL children and adults, particularly those meandering through the never-boring, monumental, and challenging world of autism. God's light shines blue today. = )
[World Autism Awareness Day is an internationally recognized event when the United Nations reaffirms its "commitment to promote the full participation of all people with autism, and ensure they have the necessary support to be able to exercise their rights and fundamental freedoms."] Through education, medical research, access to great resources and other support for people diagnosed on the autism spectrum, communities around the world are able to find ways for those living with autism to thrive. (yay!) It is the job of each of us to learn, share and advocate for better healthcare, resources and improving the myriad of equitable opportunities for all living with autism. And we should vote (today), too!
As we remember those of us who are experiencing autism daily, may be remember the joy, surprises, challenges and wonder that arise for our family and friends. May we continue to open our minds, hearts and whole selves to embracing the love of God in each of us. It reminds me of this verse in the Bible: "And now this word to all of you: You should be like one big happy family, full of sympathy toward each other, loving one another with tender hearts and humble minds." ~1st Peter 3:8 . This verse doesn't say we are perfect or unable to annoy each other sometimes; it DOES SAY to be a family together, lifting each other up with understanding and love. We can do that!
Coming Up:T
March 30—Kids' choir rehearsal for Good Shepherd, 10:00—11:00am; Great job, musicians!!
—Kids & Youth BAKING PARTY (bake cookies for Sunday Coffee Time), 11:am—1:30pm (pizza lunch) This was so awesome–way to bake, friends! Thanks for all of your help serving our church.

Saturday, April 13: All Ages GAME NIGHT from 6:00-8:00pm. Games: Mingo (mingling bingo), KC Group Jeopardy and Balloon Volleyball. (optional Pizza, $2); RSVP to Laurel by 4/10.
Saturday, April 20: Easter Egg Hunt from 1:00-2:30pm; ages 0-12. Friends are welcome!
Sunday, April 21: EASTER Worship 1: 7:00am Sunrise at Mt. Moriah; Worship 2: 9:00am at Holmeswood
Heartland Day Camp (VBS) ~ July 8-12
Register for camp here: https://www.heartlandcamps.org/holmeswood-baptist
Happy Week!
~Laurel